collaboration
Key-Obs and l'Ecole des Neurosciences de Paris-Ile de France (ENP)
have signed an agreement to collaborate in the field of the behavioral phenotyping of transgenic mice.
This agreement allows an easy access to the expertise and phenotyping service implemented at
Key-Obs
.
It is especially designed to create an efficacious interface between basic research and the use of specific strains in preclinical pharmacological studies.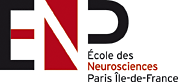 www.paris-neuroscience.fr