services
Our scientific expertise and our highly qualified technicians provide you relevant solutions to the specific needs of your research projects.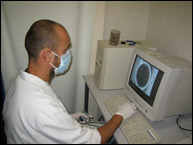 Pharmacological studies
A repertoire of various animal models validated and carried out with reference drugs in various fields.
Tests
Behavioral phenotyping
All the relevant tools for an evaluation of the functional consequences of genomic mutations.
- The primary screen, a test battery for a first evaluation of behavior and sensori-motor functions.
- Specific tests.
- An internal data base from various mice strains.
The internal data base : an essential tool for functional genomic research and a guide for the selection of suitable strains for pharmacological studies. Numerous inbred and outbred mice strains have been studied in the Key-Obs' laboratory for their behavioral performance in various tests.
Custom designed research
Benefit from our strong expertise in specialized areas to conduct your specific research projects in the following fields.
Memory, learning : Aging, Alzheimer disease…
Depression, Anxiety, Psychosis
Drug abuse, Pharmacodependence
Vigilance, Attention, Impulsivity
Attention Deficit/Hyperactivity Disorder
Motor disorders : Parkinson and Huntington diseases
Immunology
Flexibility
Your products are novel. It leads to specific questions and requires adapted protocols. In order to fit at best to your needs, your study is conducted in collaboration with you, as it could be in your own laboratory. Several biopharmaceutical companies works in full confidence with our staff to progress in their projects.
Information
You can follow the progress of your study on line. Somehow, preliminary results (i.e. unexpected results) may indicate that some changes of the experimental protocol are suitable. In this case, you are informed as soon as it is noticed, and the changes that can be made are examined together for the best continuation of your study.
Rapidity
Reach your goal according to your deadlines. We are engaged in our realization delays which are known before the start of the study.
Confidence
Until 2000, more than thirty clients. Most of them regularly ask for new studies or just contact for expertise. Numerous of our studies have allowed significant progress in research projects on novel compounds.